FOA Schwarz, New York City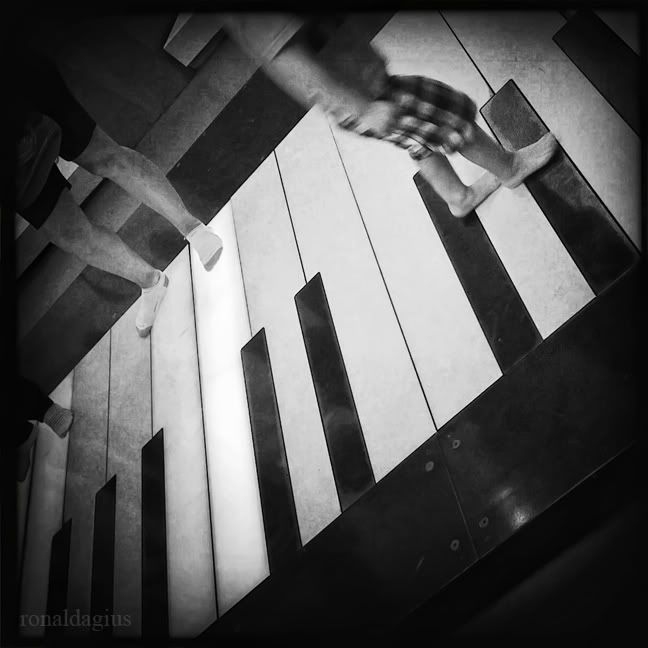 "All I need is a big surfboard and a piano.

" Dennis Wilson
Do you remember the 1988 movie starring Tom Hanks called Big? If you do remember it, do you remember the scene where Tom Hanks stepped on a huge piano and starting running on it to play it?
This piano I have in the picture is that very same piano. It is now in a special room at FOA Schwarz in New York City. FOA is an enormous toy store and it's every child's dream come true. The first time I went to this shop and came across the piano I just had to ask whether it was the real thing or not. I instantly remembered the scene from Big.
A couple years ago FOA Schwarz also started selling replicas of the piano for those die-hard fans of the movie or for those who have money to burn and decorate their house with one them.
While taking a picture of the piano is not difficult at all, taking pictures with children running on it is. As soon as a child steps on it they go berserk especially the very young ones who can't make the connection between walking, and while walking they are also making noise.
Here I managed to get a picture the way I wanted it. Something that shows movement but yet is static. You can see two kids walking and a parent supervising them in the background.
This black and white photograph was captured on my iPhone using the Hipstamatic app. Some minor editing was done in PS CS4. Settings for Hipstamatic were BlacKeys B&W/Lucifer IV